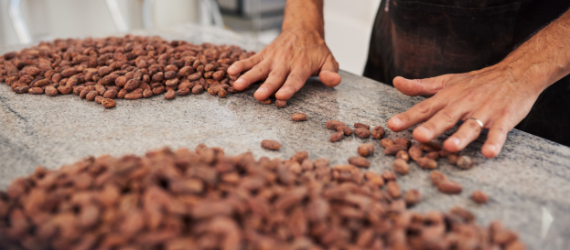 Our Organic range is an all-round philosophy and the logical path to follow for us here at Confiserie Adam. Our Organic range fits coherently into our vision for Confiserie Adam products. Our company has always had it at heart to offer the best, both in terms of taste and in the quality of materials chosen. Our organic range meets these demands perfectly.
Our Organic range includes iconic products such as chocolate-coated almonds and hazelnuts. But also, more gourmet products such as fruit jellies in various flavours which express delicious flavours when married with chocolate. Confiserie Adam has also, of course, developed certified Organic Farming dragées. Our iconic product in its Organic version was a must!
Then we have our spring collection of hollow-filled chocolate figures. Perfect for Easter. Organic dark or milk chocolate in the shape of a bunny, sheep or hen. Quality products for your gifts!
More recently and spurred by the success of our first Organic products, Confiserie Adam decided to produce new delights to expand the range. Very gourmet delights such as the Pralissimo and the dark chocolate-covered nougatine are featured along with raw materials of beneficial effect, such as goji berries and courgette seeds.
As you can see, Confiserie Adam's Organic range aims to be both gourmet and healthy. Non-guilty pleasure at its best!