Our original, traditional dragées
Discover
Here you can discover our wide variety of dragées. From the traditional to the original, all tastes are covered! Almond, chocolate, but also original gourmet dragées with amazing centres. Marshmallow, fruit jellies, caramel – these are just some of the examples on offer.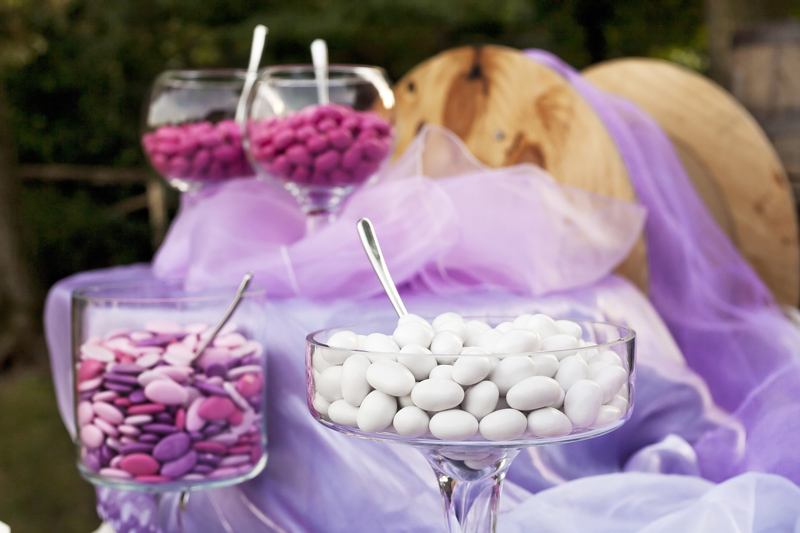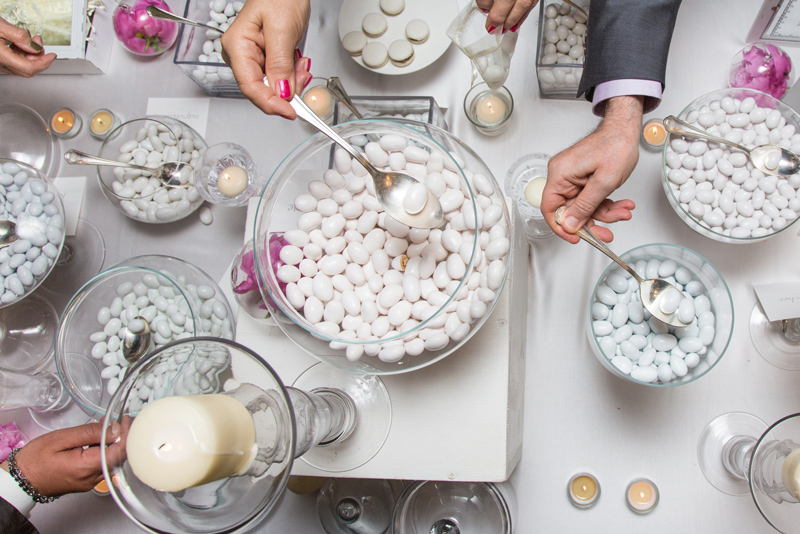 Made in
France
Choice of
colours
Quality
ingredients
Dragées for all celebrations
Discover
The biggest choice in both traditional and original dragées in the region is to be found at Confiserie Adam. The same applies to the packaging. Be sure to find what you are looking for for any occasion – christenings, weddings, civil partnerships, communions, birthdays, wedding anniversaries, baby showers... All your needs are covered.
Our original dragée
But what exactly is a dragée? And moreover, why has Confiserie Adam been associated with dragées for so many years? The dragées, both the traditional and the original ones, meet the same criteria. Countless varieties of centres with an optional chocolate covering, which are then coated in a fine layer of sugar. And there we have it!
The last stage is what gives its name to the dragée. It's quite simple. This simple-to-describe procedure in fact requires a veritable know-how, which Confiserie Adam is one of the last to possess. Our company has offered original, delicious dragées made in the traditional time-tested method, for over 100 years. This is why Confiserie Adam is associated with dragées, and especially original dragées. And rightly so! We also constantly innovate on our dragées – the colour, the centres, the shapes… Confiserie Adam is forever imagining new products for your delight. A small example of an original dragée which may surprise you: printed dragées. Write a message, print your logo on them, in a choice of colours. Anything is possible here at Confiserie Adam.
And of course, on top of our whole range of unprecedented on-trend dragées, we also offer the traditional almond or chocolate ones. Discover or re-discover their unique and oh-so delicious taste. These are the simplest and yet the most timeless dragées. To be enjoyed, of course, at celebrations. But also, on a daily basis, for those who appreciate life's simple pleasures. No matter the moment of the day or the year, whatever your preference, we have a dragée for everyone!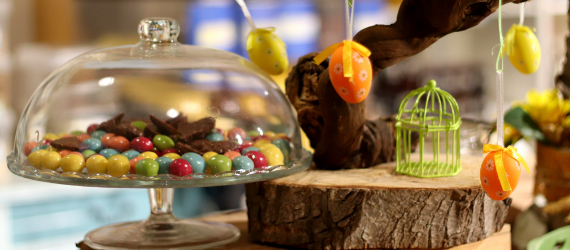 Confiserie Adam is the dragée specialist. For over 100 years, we have mastered rare and demanding skills – those of the sweetmaker-confectioner. Both the traditional and the original dragée require the mastering of a specific skill which only very few companies still possess. Confiserie Adam is one of these and has notably been distinguished by the French State via the EPV label (Living Heritage Company), which recognises French companies possessing excellent know-how. This distinction is discerned to only a handful of French companies, of which Confiserie Adam. A real sense of pride and recognition for the company as a whole. This encourages us even more to pursue our gourmet story. Innovation, for example, is an integral part of Confiserie Adam. The dragée sector is in constant evolution and our wish is to propose both traditional and original dragées. Dragées often come with an old-fashioned image. But you will be surprised when you taste ours! Who would have thought that the crunchy almond could be replaced by soft marshmallow? And why not let yourself be tempted by our fruit centres? We could even be tempted into allowing ourselves the pleasure of tasting them on a daily basis! Let us share a little secret – that's exactly what we do here at Confiserie Adam… The dragée is enjoyed all year round – our sweet little gourmet pleasure… Maybe you don't know it, but you eat dragées more often than you think. That's right, the famous little candy… The very one which coats a peanut in chocolate and is presented by two little characters – one red and one yellow. See what I mean? Yes, that's a dragée!
The difference with Confiserie Adam (and others)
The quality of our raw material, our choice of recipes, our manufacturing techniques. Our wish is to provide original and traditional dragées of incomparable taste, to be enjoyed daily. Try. Let yourself be tempted by our range of dragées – dessert-flavoured, fruit-centred, exquisite praline, etc…you will be pleasantly surprised at the finesse of the flavours and your snack breaks will never be the same again. You'll see – our dragées will become a daily pleasure. And should you choose the almond or hazelnut centres, you will also benefit from the nutritional values of these nuts. Our dragées can truly be part of a well-balanced diet.
Our dragées are of course also used in a more traditional way – for celebrations such as weddings, christenings, communions, and numerous other celebrations such as birthdays. Any opportunity to enjoy a dragée!
Some tips on how to choose your dragées
Here are some tips. If you enjoy simple pleasures, then choose between our almond and our chocolate dragées. But all tastes are catered for. If you prefer intense flavours, then the 73% chocolate is perfect for you. Fancy something refined? The Avola almond is the choice for you.
If, on the contrary, you wish to try new flavours, then opt for our unique dragées, of which Confiserie Adam offers a large variety. Let's go through the options offered in the original dragées range… We can start with the marshmallow dragée – a tender heart which comes in a rainbow of 12 different colours (white, pink, yellow, etc). After the tenderness of the marshmallow, we have the dessert dragées.
Our dragées are the perfect accompaniment to your favourite desserts. Crème brûlée, tarte tatin, lemon tart, coco macaroon, tiramisu, red fruit crumble flavours – original at its best, don't you find? Then we have the Pralissimo. Just the name denotes delicacy. Almonds covered in praline – irresistible! And we also have pear and chocolate caramel, raspberry or mandarine for the fruit lovers among us. A real treat! After this whirlwind tour of our original dragées, I'm sure you'll agree that they are here to stay. It has always been important to Confiserie Adam to maintain the tradition of the dragée. It is a symbol of joy, happiness, life's happy moments. Which is why at Confiserie Adam we are constantly innovating in our recipes and shapes. We have it at heart to adapt to your wishes and to stay up-to-date and it is by continuously developing new ranges of dragées that we manage to keep things dynamic. How exactly do we manage this?
New original dragées each year
Let us share a few secrets… Throughout the year, we travel the world in search of new raw materials, those which could meet our demands in terms of quality and taste. Should they pass our quality and flavour tests, we go onto stage two. Your dragée is starting to take shape. Then, as we have your wishes at heart, we just simply listen to you. Your opinion matters to us and we strive to develop our ranges in accordance with your wishes. Once these two stages completed, a new recipe or a new shape is born, and it's on to the final tests. This is the moment for our famous tastings and modifications. We taste each of the new original dragées in order to retain only the best – the one which will find its way to you. And there we have it.
Our passion for our core activity and the infinite scope for creativity with the sugared almond makes it a pleasure to add new flavours and develop new dragées every year.We can imagine, YOU can imagine, all kinds of flavours, textures and shapes! What will be the next original dragée to be added to our list? We are already onto it – listening to you, looking to find the right raw materials to fulfill your wishes, looking for good ideas. Would you like to share some of your ideas with us ? Get in touch and let us know, so that we can work on it. Soon you'll find it on your wedding, christening, communion or other table. Or just on your table at home. All this in the packaging also chosen by you.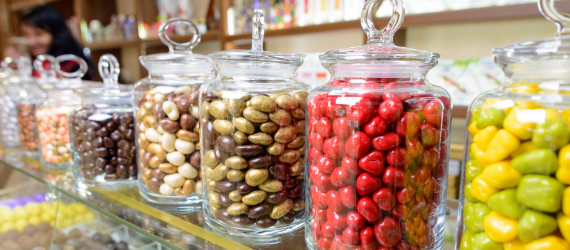 Packaging for dragées
In the same way we develop new products and original dragées, Confiserie Adam also regularly renews its packagings. Our timeless little boxes and little glass containers are our mainstay and are completed each year with on-trend items. For example, a unicorn-ornated little box was recently introduced alongside the bees and pirate boxes, all set to take centre stage on your tables. What better way to enhance your original dragées ? Thought has also been given those of you who prefer to showcase the shape or colour of your sweet treats. Confiserie Adam offers a wide choice of refined and simple packagings – our small organza bag being a best-seller. A wide choice of transparent plexiglass boxes etc, are also on offer… And whether you opt for the simpler or the more original containers, you have the option of personalising them. The colour of the ribbon, small stickers with a personalised message – a nice way to add the final touch to your choice of traditional or original dragées! As you can see, we could talk about the dragée forever! There is always a dragée Adam moment, whether it be for your daily needs or for a special celebration. If you have read this far, then proof that Confiserie Adam dragées are of particular interest to you. Thank you! Your interest means a lot to us, and should you need any further details, please get in touch. And don't forget – if you have a wish, an idea, let us know. We may just work on it to widen the scope of our original dragées recipes.
Let's meet in our shop
Enjoy the expertise of our 100-plus years of experience not only in the form of our dragées, but also in the packagings on offer to add the final touch to your goods. Confiserie Adam endeavours to be a partner in all your celebrations. This is why we offer an infinite variety in combinations of traditional and original dragées, presented in an unlimited choice of shapes and colours. And personalisation of the packaging.
By clicking on any chosen category, you will find everything on offer. But even better would be to come and meet us in our shop in Herrlisheim near Colmar to discover our full range and more especially to benefit from our expert advice. You can choose and mix to your heart's content from our vast range. But until we meet, feel free to leaf through all our categories, be it wedding, communion or christening and let yourself be tempted. You will find an assortment of dragées in the shapes and tastes you would like. Almond, tiny heart, confetti shapes, all packaged in various containers: cars, glass bottles, all shapes of boxes, pastel-, bold-, or neutral-coloured small boxes… You are sure to find both the taste and the packaging you are looking for.
Since 1912, we have been accompanying you with a sense of pride and emotion through the generations, in all the happy moments of your life. We listen to your needs and wishes and match them as close as we can in inventing new recipes for original dragées and offering new packagings each year. Your original dragées can be found at Confiserie Adam – discover them here and now by going through the different categories.